Live the dream in Australia
For the last 12 years, HealthStaff Recruitment has been a preferred Healthcare Recruitment Provider for all 200 public hospitals in New South Wales.
We have placed successfully a few thousand Doctors, Nurses, Dentists and Allied Health Professionals for with the 200 public hospitals throughout NSW.
New South Wales Health in association with HealthStaff Recruitment are recruiting for Sydney hospitals including Regional, Rural and Outback hospitals across the state.
The positions we are recruiting for include:
Registered Nurses and Midwives in all clinical areas (including mental and forensic health)
Allied Health Professionals
Doctors, Registrars, Junior Doctors and Specialists
Make your dream a reality now! To secure a position in one of these areas please contact us through the 'APPLY NOW' button, or call us for free from the numbers listed below.
If you would like to learn more about healthcare jobs and hospitals in NSW please have a look at our videos here.

HealthStaff recruitment is the preferred provider of recruitment services to NSW health, which includes all public hospitals in Sydney, and country and rural NSW. If you are looking for healthcare jobs in NSW please send us your CV at info@hsr.com.au or call us today to secure an interview.
| | |
| --- | --- |
| Free call from AUS | 1 800 33 05 33 |
| Free call from UK | 0 800 047 0924 |
| Free call from Ireland | 1 800 422 011 |
| Free call from NZ | 0 800 22 33 81 |
| Toll Free from Canada | 1 866 286 7349 |
| Toll Free from USA | 1 866 317 4232 |
HealthStaff Recruitment Services
All of our services are free and include:
Assistance with your professional registration and visa application.
Support on arrival and during your contact for international healthcare professionals.
Assistance with finding initial and permanent rental accommodation.
Subsidised accommodation available at some hospitals.
Immigration assistance for candidates seeking permanent residency in Australia.
Contracts from 3 to 12 months and longer.
NSW Ministry of Health Information
Eight LHDs cover the Sydney metropolitan region, and seven cover rural and regional NSW.
In addition, two specialist networks will focus on Children's and Paediatric Services, and Forensic Mental Health.
A third network will operate across the public health services provided by three Sydney facilities operated by St Vincent's Health: these include St Vincent's Hospital and the Sacred Heart Hospice at Darlinghurst and St Joseph's at Auburn.
Wall Map of Local Health Districts
Metropolitan Local Health Districts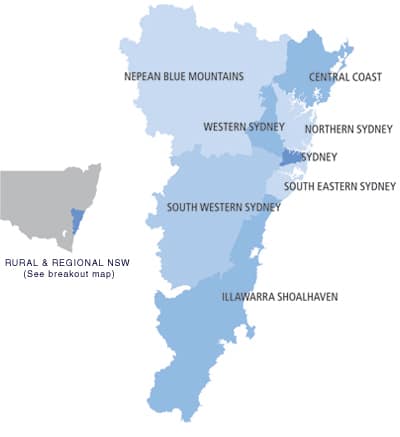 Rural & Regional NSW Local Health Districts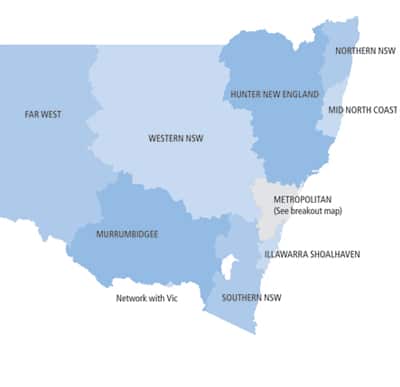 Specialty Networks
Sydney Children's Hospitals Network
Justice and Forensic Mental Health
St. Vincent's Health Network
Find out more about the NSW Ministry of Health.