Support and Guidance
Dear Rupali
All well here. You have been a great support and assiting me through the long and complicated registration process. Work is going well.
Best regards
Dr Rohanah, Melbourne
Hi John,
Still well and healthy here I hope you are too!
Thankyou, first day is going well. All very welcoming. Thankyou for all your help throughout the process!
Warm regards
Megan RN, Sydney
Hi John
Thank you so much for all of your help. We enjoy our time here so much!
Dr Leonie, Perth
Hi Elisha
We arrived in Sydney and thank you for organising our temporary accommodation.
I started last week at the hospital. The team was very welcoming.
Thank you for everything you have done for us. You made the entire process very easy for me.
Cheers,
Sharon RN, Melbourne
Dear John and the HealthStaff Recruitment Team
We want to thank you all for making our plans come together, without you we would not have managed.
Dr Guusje, Adelaide
Guidance and Support
John,
Work is great, they are very well organised and committed to improve. It is very busy!
Thank you for all your guidance and support. You were there for us when the paperwork was overwhelming.
Thanks again.
Dr Marie, Perth
Fabulous Team
Hi Rupali
I have told my friends to use your services. You and your team have been fabulous through the whole process.
We have settled in and the children have already a few new friends. Many thanks for all your help.
Dr Amir, Melbourne
first-class assistance
Dear John
May I take this opportunity to thank you for the first-class assistance you have given me with such a tight timeframe and job specs….couldn't have done it without you!
Best regards,
Dr MS, UK

Hi John
Many thanks for helping me obtain this position and I wish you and your family a happy and restful Christmas
Kind Regards
Dr B, Perth (GP)
Support and Guidance
Hi Elisha,
I start my new job on Monday.
Thought I would drop you a line to thank you for all you have done for me during my journey. Your support and guidance has been very much appreciated.
Once again thank you.
Kind regards
Donna, UK  (RN)
Exemplary Service
Hi John
Once again you and your team have proved to be amazingly helpful. It just shows that as a recruitment company you are far different from a normal agency and are there to support us not just right from the beginning but throughout the job too.
Just wanted to thank you for the exemplary service.
Dr Y, UK (GP)
Great Support
I got regular calls to inform me about the status of my application and John was able to negotiate terms with my prospective employer on my behalf.
Dr B, Wollongong (GP)

Excellent Service
Rupali and John, thank you for providing an excellent service, and sharing your knowledge and experience.
Dr C, Melbourne (GP)
Highly Rated
Give yourself full marks!  John, I rate your service very highly. I was really worried, felt very re-assured that you will be able to help, you did help; I did not feel pressure to make decision one way or another. So, all in all, very good.
Dr N, Canberra (Specialist)
Hassle Free Help
The consultants at HealthStaff Recruitment are extremely warm people who have made the biggest decision of my life very smooth and hassle free.
Dr S, Dubai (GP)
Hi Tanya,
Hi Tanya! How are you? I'm doing' pretty good here! City is great, work's great, pay is great and met great friends! I have a car (second hand of course) and been around Brisbane and even to the Gold Coast. Love it!
I really appreciate all your effort guys. I wouldn't be here without you! And thanks for keeping in touch Tanya and the rest of the HealthStaff Recruitment people. You guys are AWESOME! Keep up the good work you've started!
Cheers!
Henry, RN (UK)
Hello,
I would just like to comment on how amazing HealthStaff Recruitment is.
From the moment we started emailing each other in September 09 up until the day I arrived here in Sydney May 10, Suzanne has been nothing but supportive, friendly and helpful. I feel like this process of me coming to Sydney from Canada would be very difficult but with the help of Suzanne the whole process went so incredibly smooth.
At first I was terrified of all the paper work that was involved. With getting my Australian nursing registration to the Visa process and gathering all the paper work from numerous areas from my nursing career, the whole preparation made me feel very discouraged.
Suzanne walked me through all of this and told me to take one thing at a time and reassured me not to get overwhelmed. This helped me so much.
With her support I can say now that I am here in Sydney, I have a nursing job in the area that I want and I am living the dream of travel nursing. I truly thought it was not possible. I feel also it's not that she just told me what to do, she would go that extra step and follow up with me every step of the way to make sure that things were done right. I consider Suzanne a dear friend. She truly cares and that's something that is very special.
Thank you again Suzanne.
Sincerely,
Kimberley Galazka from Toronto, Canada ( RN)
Hey Tanya,
My first week at RNSH was pretty good… Lots of adjusting but overall it went well. The staff have been really welcoming and it seems like a really great unit.
Thanks again for all your help getting everything sorted, I truly appreciate everything you have done for me. I would have never made it over here without you! This is definitely an experience of a lifetime.
I have a few friends from home who want to come and nurse in Australia (in the next year sometime)- can I give them your name?
Kacey Keyko, RN
Hi Karen,
I would just like to say thank you for all your help and advice over the past few months and for helping me to secure a job!!!
Thanks again!!!
Jamie Clark, RN
United Kingdom
Hello Jonelle,
Just wanted to thank you for all your help during the process of moving to Australia. Everything you have done has made it easier for Michael and I. It is a huge life change to move so far away from comfort. But we are ready and HealthStaff Recruitment has made it a pleasant progress.
Again, thank you.
Ian Fay & Michael Sanderson
Saskatchewan, Canada (RNs)
Dear Jonelle,
Can't believe we're finally going, its very exciting. I have booked flights for the 10th of February, which is plenty of time to settle before commencing work on the 2nd of March.
I would like to thank you and your team for all your time and patience in helping me reach my goal. Everyone has been really professional and supportive throughout this experience, which at times has been quite stressful. I would definitely recommend HealthStaff Recruitment to anyone wishing to follow the same path as me. My husband and I are really looking forward to our new life in Australia.
Thank you once again, we are very grateful.
Kind regards
Gemma, RN
United Kingdom
Hello Katie,
I was wondering if there was a possibility of referring a friend that is interested in working in Australia to you? You have been so helpful and such a great resource for me I thought you would be perfect to help my friend as well. If this is possible please let me know how she can go about setting it up.
Thank you and hope to hear back from you
Adele Trebinskie, RN
Canada
Hi Jane,
"I'm so glad you called last week. You answered many of the questions I had. It also felt good to have heard a "human voice". E-mailing, though it is very efficient, can become depersonalized".
Dr Jessica Kaminska
Sweden
Dear Jane,
Thanks again for all your help you have been brilliant!
Dr Thomas Rackley
United Kingdom
Dear Karen
I am always in touch with friends who used your company, I must admit that you guys you are truly professional and your reputation is amazing.
Erasmus, RN
United Kingdom, 18 November 2008
Dear Jane
Thank you very much for organising the referee report! Is is a pleasure dealing with a helpful consultant.
Bunbury Hospital, 8 October 2008
Dear Katie
We have had a great time in Australia! I have 3 weeks left of work, so I finish just before Christmas. I can't believe how fast the year has gone.
We have decided to go back to the UK though to settle, so I won't be looking for another contract here, this is purely because we miss our friends and family too much! Although we're taking our time going home, travelling some of Australia, New Zealand and Thailand on the way home.
I would be happy to give feedback for you and the agency, and also the hospital, because everybody has been so welcoming and helpful, I can't fault the process, and would urge others to do the same!!
Thank you so much for your help!!
Lucy, RN
18 November 2008
Dear Rebecca
Both Ruth and I just wanted to say thankyou so much for all of your help and guidance along the way. The whole process has been made so much more pleasant, easygoing and informative dealing with yourself, and also we would like to say thankyou to your colleagues who were also most helpful while you were on holiday.
Just to add as well that the process has not in any way felt stressful, and has gone very smoothly for us because of the service we have received. Exciting times ahead! Best wishes for the New Year to you as well.
All the best, Ruth & Daniel, UK
9 December 2008
Working on the Northern Beaches
I was recommended to HealthStaff Recruitment by a friend who had used their services and had an amazing year travelling Australia working as a midwife. Coming out and working in Australia is something my husband and I had been thinking about doing for years and her experiences and stories made us think more seriously about it. I contacted HealthStaff Recruitment and the ball was suddenly rolling!
Brooke was fantastic and helped me with all my silly questions right from the word go. She was very approachable and always replied to my silly questions and queries and when she wasn't able to someone else replied on her behalf really quickly! It makes a massive difference that you have someone to talk to available in UK business time.
We came over on working holiday visas to give us the freedom of investigating areas to live and work without being tied down to one employer.
Even getting a working holiday visa, which is a by far the quickest visa option, it still took 4 months as I was coming over working as a midwife. My husbands came through in 24 hours! The Registration process was without doubt the most tedious hard part of the whole process and I would advise anyone thinking of coming to NSW apply for it asap as it takes a lot longer than you would imagine, and bring all your original documents out with you as they need these when you collect your certificate! I learnt that the hard way! And your police clearance. Mine took forever and at one time almost cost me job I had been agreed!
Once we got here HealthStaff Recruitment were fantastic and searched for possible jobs for me, arranged interviews and were a constant support throughout. After being offered one job, which I couldn't accept due to an accommodation, they were straight back on the job search and Jonelle found me a job much closer to where we could live.
I am now working as a midwife in a great unit in Mona Vale, on the northern beaches above Sydney. It is a great maternity unit with fabulous services, friendly staff and amazing views of the beach! All much more laid back than the unit I was in previously! We have a great apartment on the beach in Manly and have completely fallen in love with the place.
So much so we are now looking at long term visas and HealthStaff Recruitment are helping us out still!
I would recommend HealthStaff Recruitment to anybody thinking of coming down here to work. They are very individual in that it feels they are really working for what is best for your individual scenario. The help and support they provide is priceless and has made a very big and scary move a lot easier and calmer!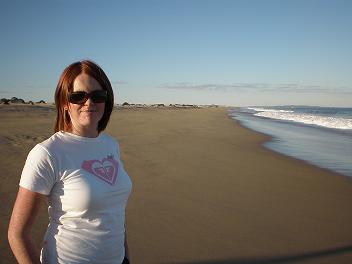 Rebecca Crumpler, RM
Nursing in Sydney
I contacted Healthstaff Recruitment last year in an attempt to start an extended overseas "Working Holiday". I had contacted other nursing agencies and at the time felt as though I was 'just another number for the books'- this was definitely not the case with Healthstaff Recruitment! I felt welcomed and my enquiries were and have never been too much trouble.
The staff at Heathstaff Recruitment were only too happy to help me and soon arranged for an interview for me for my current position here in Sydney. Health staff recruitment helped me with all the information for the necessary arrangements for regisration, travel, pick up and transport to my accommodation, they also organised my accommodation for the duration of my present contract.
I have been contacted by Healthstaff Recruitment on a regular basis to see if I am still happy with my employment position etc. I am still in contact with them regarding pending future positions.
The actual people that I have met that work for Healthstaff Recruitment, i.e. on transfer from the airport and at the 'drinks and nibbles'evening this year have been just the nicest folk.
Thank you Healthstaff Recruitment
Michele Fortune, RN
Finding Work in Australia
My first point of contact with HealthStaff was via the Internet. I had been turned down for a visa by the DIMIA as I was over 45 and considered past it by the Australian Government for a work Visa in my own right. Through HealthStaff I have found sponsorship by NSW Health for up to 4 years on a Business Visa, who have employed me as an RN in ICU at Gosford Hospital.
I had already been granted my RN Registration in NSW as I had applied for this whilst pursuing my own Visa application and would recommend anyone wishing to come to Australia to nurse to do this, as this is often the area, which takes most time.
The process from applying via HealthStaff for employment was very quick and efficient.
From my arranged interview in London in Jan. 2005 where I was offered a post in ICU Gosford or Broken Hill (I choose Gosford as I preferred to be nearer the coast), we (my wife travelling with me, and dog already here in quarantine) arrived in Sydney on 29 Apr. 2005 staring work on 16 May 2005.
On arrival at Sydney International airport we were met at 6 o clock in the morning by one of HealthStaff Recruitment's meet and greet consultants, dropped at Central Station with our entire luggage and then collected at Gosford Station by Kate who is the liaison Nurse for the new arrivals. Kate then drove us to our accommodation in nearby Lisarow (The Bellbird Bed and breakfast, which I had found on the Internet, with incredibly welcoming hosts in Graham and Susan. Having made sure we were settled in, she left us to sleep off our jetlag having given us her number in case of any difficulties and to meet up later in the week for a tour of the hospital. A few days later Kate showed us around the hospital where I got to meet my new colleagues and see the area in which I was going to be working. The staff were and still are very welcoming, the unit is large surrounded by windows overlooking Gosford, a very pleasant outlook having been used to looking only at walls with high windows in my last unit.
The area around Gosford is varied in its choice of environment with vast areas of Bushland with National parks in one direction, a large choice of beaches in another and the city of Sydney only 1.5 hours away by train. We are spoiled for choice.
This may not be everyone's idea of paradise but you can see it from here.
Having been here for over 3 months now, we have no regrets in our choice in coming to Australia or deciding to settle in the Central Coast NSW.
Eric Reilly, RN